The Virus Bulletin-testers specifically pointed out Emsisoft's excellent detection rate and history of flawless detection of Windows comparatives. With no false positives and close to a 100% detection rate, Emisoft Anti-Malware left 20+ vendors behind in ranking.
Our newly revamped interface also received an honorable mention- we are very proud of our new sleek interface and are pleased our users enjoy it!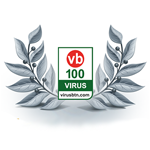 "… a very clean and attractive new look, with large, clear emblems and text, and nice use of color to indicate status. The layout is simple to navigate and a decent set of basic configuration options are provided."
VB100: Independent anti-malware comparisons
In this comparison, the VB test team put 48 products through their paces on Windows 8.1. Over 900,000 files were included in the test, and thousands more proactive and reactive sections were added on the fly for this in-depth comparison round.
The full August 2014 VB100 Comparative Review on Windows 8.1 is available here.